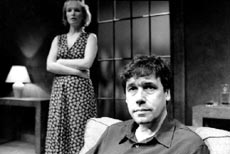 Lindsay Duncan and Stephen Rea
"Like a painting or a piece of music, it doesn't explain itself. It simply exists: as masterly dialogue, superb acting and precisely focused direction."
The Independent on Sunday, 22 September 1996.
"Pinter makes concrete virtue of allusiveness and tactics of evasion." Michael Coveney, The Observer, 22 September 1996.
"Pinter's production takes about an hour, but the pace of this very static piece is often agonisingly slow."
Paul Taylor, The Independent, Weekend, 21 September 1996.