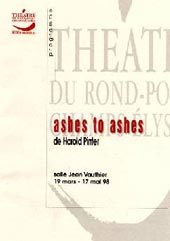 Assistant director - Mitch Hooper (with Benedicte Charpentier)
Set designer - Eileen Diss
Lighting designer - Jean-Luc Chanonat
Costume designer - Claudine Lachaud
Sound designer - Tom Lishman
Rebecca - Christine Boisson
Devlin - Lambert Wilson
" - Pourquoi mettez-vous en scene Ashes to Ashes en France? [...] - J'etais tres interesse par la confrontation avec le français. C'est une experience passionante."
Harold Pinter to Marion Thebaud, Le Figaro Litteraire, 19 March 1998.
"Il nous donne des cles, bien sur. Il est avant tout le metteur en scene le plus concret" que je connaise. On repete en costume dans les decors et on resoud quotidiennement des problemes de voix, de diction, de rythme. Pour Pinter, le theatre se resume a un plateau et non a des theories sur le theatre. Avec lui, on fait, on agit, on ne perd pas de temps a se poser de fausses questions."
Lambert Wilson to Marion Thebaud, publication unknown.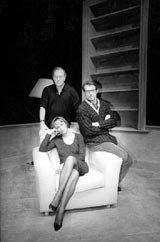 Harold Pinter, Christine Boisson and Lambert Wilson

"Il cherche sans cesse, il fouille, et propose chaque jour des choses differente de la veille. Il apporte avant tout un eclairage specifique et changeant. Rien n'est fige. Nous repétons quatres heures et demie par après midi: ce sont des heures intenses qui se deroule pourtant dans une atmosphere extremement decontractee."

Christine Boisson to Pierre Notte, La Terrasse, date unknown.

"Son theatre est, helas, tres souvent represente d'une maniere figee. La premiere chose qu'il nous ait dite, c'est qu'il ne fallait pas obstinement respecter les pauses, les temps..."

Christine Boisson to Pierre Notte, L'Evenement de jeudi, 19-25 March 1998.

"[Harold Pinter] a choisi la haute tradition britannique d'un jeu purement psychologique, pour une piece qui ne l'est rien. Son theatre de chambre produit une musique grave et poignante, qui place la morale et la politique en son coeur."

Jean-Louis Perrier, Le Monde, 1 April 1998.

"Il y a du Virginia Woolf [...] par la violence qui sourd dans les echanges. [...] Il y a aussi du Marguerite Duras dans cette façon de decaler les repliques [...] Seulement Pinter, en une heure de répresentation, est loin de donner tous les indices pour qu'on le suive avec enthousiasme. Il reussit pourtant a creer un reel climat de tension, de malaise que Christine Boisson, en 'femme gauchere', amplifie avec justesse."

Jean-Pierre Bourcier, La Tribune, 27 March 1998.