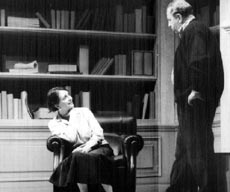 Adriana Asti and Jerzy Stuhr
"- Che cosa ha significato per lei essere diretta da lui? - E' stato molto piacevole. Soprattutto ho cambiato opinione sul suo carattere. Conservavo il ricordo di quella terrible esperienza romana. L'avevo visto per un attimo e credevo che fosse un collerico, un tremendo. Invece e affascinante."
Adriana Asti to Osvaldo Guerrieri, La Stampa, 4 November 1997.
"Pinter esige dai suoi attori un'oggettivita assoluta con poche varianti alle posizioni immobili di base, ma risente di qualche imbarazzata difficolta qui a imporre l'atmosfera: la sala e infatti piu vasta e dispersiva; e nonostante la cura passionale di Allessandra Serra nel mantenere una traduzione letterale, sfuggono certe sfumature del senso e muta la fluidita dei ritmi."
Franco Quadri, La Repubblica, 1 November 1997