No Man's Land (2001)
Royal National Theatre, London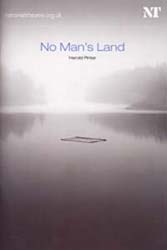 Programme Cover

Directed by Harold Pinter
Set Design by Eileen Diss
Costume Design by Dany Everett
Lighting Design by Mick Hughes
Sound Design by Gregory ClarkCast:
Corin Redgrave as Hirst
John Wood as Spooner
Danny Dyer as Foster
Andy de la Tour as Briggs


The Guardian Saturday December 8, 2001
Pinter's victims of the past

This is a haunted as well as a haunting play. For those of a certain generation, it is stalked by memories of John Gielgud and Ralph Richardson in the original 1975 production. But the brilliant thing about Harold Pinter's revival of his own play at the Lyttleton is that, without banishing the ghosts, it forces us to re-examine what the work is actually about. Pinter's production clearly presents us with a collision between two different forms of desperation. Hirst, the wealthy, immured writer within whose austerely luxurious drawing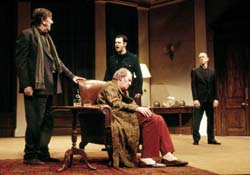 John Wood, Corin Redgrave, Danny Dyer & Andy de la Tour
Photographer: Ivan Kyncl

room the action takes place, is trapped in the present and plagued by inconsolable memories of the past. The tragedy of Spooner, the ageing Chalk Farm pub-worker who seeks to rescue him, is that he has no definable past, just a series of self-invented myths. Either way, Pinter implies, we are the victims of our own memories. But the play is a poem, not a thesis. And the great thing about it is the way it is defined by its performers - here Corin Redgrave and John Wood prove an astonishing atch for past interpreters. Redgrave's Hirst catches the contrast between the legless night-drinker and spruce morning-after figure, just as Pinter did in the 1992 Almeida revival. But Redgrave's performance is also remarkable for the intensity of both his rage and compassion. In his cups, Redgrave becomes a frighteningly demonic figure, trying to lay to rest the ghosts of his remembrance; later he lends a grave and quiet beauty to the speech in which Hirst urges Spooner: "Tender the dead as you would yourself be tendered." If Redgrave's Hirst is forever haunted by the past, Wood's amazing Spooner is constantly seeking to create one. Far more clearly than Gielgud, Wood shows us that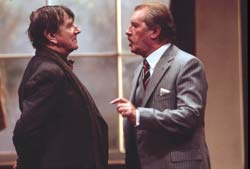 John Wood & Corin Redgrave
Photographer: Ivan Kyncl

Spooner is a superfluous man trying to find his mission in life, and to that end he creates a series of elaborate fantasies. One of them is that he is a poet - when Wood describes golden versifying evenings at his country house, his eyes glaze mistily over. A born fantasist, Wood also enters into other people's dreams. There's a great moment when he stares in astonishment at Hirst's description of their Oxford past, before entering enthusiastically into the game. But Wood also beautifully suggests something quixotically chivalric about Spooner's attempt to rescue Hirst from a doomed stasis. This is a rich evening in which Pinter memorably shows how the past, in theatre as in life, is fixed and fluid at the same time.
Back to plays Main Page