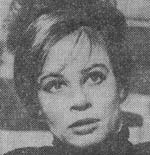 Sarah Miles
Not only does Pinter use words like sequins to glitter darkly on the surface and suggest depths beneath but he devises two conversation pieces within a smart setting and a country house that show him at his funniest.
The Servant is the best British film I have seen this year.
Richard Roud, The Guardian
It is rare to find a film which is both elegant and tough; corrosive yet compassionate; visually exciting and yet meaningful; brilliant and profound. Rarer still is the film which deals with moral problems on any but a superficial level. And that is why The Servant is a masterpiece.
Alexander Walker, Evening Standard
Further Reading
''Harold Pinter's film version of The Servant: Adapting Robin Maugham's novel for the screen.' by Steven H.Gale (Pinter Review 1990)