Films by Harold Pinter
The Caretaker 1963
Directed by Clive Donner
Starring: Donald Pleasence, Alan Bates and Robert Shaw
Not published as a screenplay
Original play by Harold Pinter
It is a triangle plot: old tramp falls in with two incalculable young men, brothers, fancies himself siding with one against the other, over-reaches himself. Harold Pinter, both in his original play and in the screenplay which with the minimum of alteration he has based on it, has devised a dazzling series of comic and sinister variations. The brothers live in a state of disconnection both from the outside world and from one another; they come and go without purpose, their conversation has no normal relevance to the situation they are in. The tramp is himself a disconnected figure. He has fantasies of belonging to everyday life, getting a pair of shoes from somewhere, doing a job, re-establishing his identity by recovering papers which-I don't know why it should strike on as so risible-have somehow cone to rest at Sidcup; yet every sentence every action marks him as a being who has cut adrift.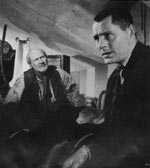 Donald Pleasence and Robert Shaw
The triangle, then is a triangle of solitaires. But they are solitaries in a claustrophobic setting: the attic room crammed with useless junk where one brother sleeps-and offers the tramp a draughty bed. Even on the few occasions when the action moves out-of-doors it is hemmed in; the second brother, giving the old man a lift, merely drives him in a tight, malignant circle round an island; and the dimensions of the screen (no CinemaScope stuff here) increase the sense of enclosure. The fact that though there is no human relation between the three they are forced into a constricted spatial relationship and a visual medium such as the cinema is uniquely equipped to stress this makes them strike sparks off one another. And the climax of the story comes because one of the three, the tramp, partly by accident and partly out of a kind of savagery fails to keep his distance. The second brother may bait the old man, but the baiting merely frightens, it doesn't hurt. It is when nerves are exposed that taunts can't be tolerated.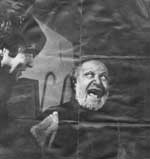 Donald Pleasence and Alan Bates

Mr Pinter offers no message, no moral: and there is no attempt to end on a sentimental image. Perhaps that is why the film is so catching; it looks deceptively undramatic, as if the characters had been trapped unawares, behaving as they might behave in private, illogically, absurdly. In particular absurdly, for on the surface it is a very funny film: slyly funny ironically finny hilariously funny. Yet amidst the jumble of that cold leaky, ridiculous attic you can hear echoes of a different sort.

I think " The Caretaker " is about some pretty serious matters: solitude, ingratitude, cruelty. Embodied solitude and ingratitude, and cruelty of course; Mr Pinter writes, as he says, about characters-though they are characters obsessed by their own qualities. And Clive Donner directing with a mixture of sympathy and unobtrusive control, has let the characters betray themselves in their own way-through the actors. This is a single-minded film; you have the feeling that writer, director, producer, cameraman and players have worked in harmony. It would be easy to say that success have on Mr Pleasance as the truculent, ignoble, pathetic tramp, and goodness knows this is a remarkable performance. But Alan Bates' ferociously unpredictable young man can't be faulted either; and Robert Shaw-the impassive bull-head, the air of remoteness of absence almost-makes the famous speech about shock-treatment illuminating in a new, threatening and dreadful fashion. I doubt if you could find a better trio.

Dilys Powell, Sunday Times