Video Info:

Accident

Starring: Dirk Bogarde, Stanley Baker, et al.
Director: Joseph Losey


Edition Details:
PAL format
HiFi Sound, Colour, PAL
ASIN: B00004CI0K
Catalogue Number: S038254
Films by Harold Pinter
Accident
1966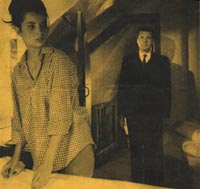 Jacqueline Sassard and Dirk Bogarde
Directed by Joseph Losey
Starring: Dirk Bogarde, Michael York, Jacqueline Sassard
Based on the novel by Nicholas Mosley
Screenplay by Harold Pinter published in Collected Screenplays 1
Joseph Losey's film, I say. But it is also Harold Pinter's film. Losey as producer and director and Pinter as screenwriter working together to adapt a novel by Nicholas Mosley. Within the film, three characters who are active, two who are passive, on who is a catalyst; simply by being herself, beautiful, sensual, calculating, the girl (Jacqueline Sassard) changes the others without being herself essentially changed.
Amazing how little is said and how much is told. Harold Pinter's dialogue-the long pauses, the interchanges which glance along the surface of a scene-is a kind of shorthand of talk; yet its elisions and abbreviations give you the character, the emotion, the situation. Sometimes it is used with ironic effect (there are wickedly funny passages reflecting on the preoccupations of a Senior Common Room).
But in general the dialogue is used, and Losey's infinitely subtle direction of playing and timing is used, to show character changing with experience and unhappiness.
Dilys Powell, The Sunday Times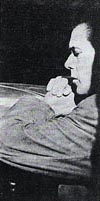 Dirk Bogarde
Pinter's script plumbs no vague depths; everyone (except possibly the girl) is all too aware of motives, evasions, barely controllable jealousies and apprehensions. The tension is in the clash between the graceful surface-Oxford seen by Losey at tits most enticingly and insidiously romantic all mellowed stone, green lawns punts and cricket on summer afternoons-and the recognition in the characters of their ability to tear each other to pieces.
The sequence in which Losey and Pinter draw the threads together is a long, lazy summer Sunday. Games with the children; Stephen's wife (Vivien Merchant) buttering buns in the kitchen; a scrambling tennis foursome with a kitten on the court; the timeless indolence of light summer evenings. And beneath all this the stabbing instincts for destruction, which crack suddenly into the open across the supper table and send everyone to bed drunk and miserable. At the end of this summer day Dirk Bogarde is found sitting, head in his hands, in front of a vodka bottle, a glass, and a colander full of lettuce leaves: a still life of wry domestic melancholy.
Penelope Houston, The Spectator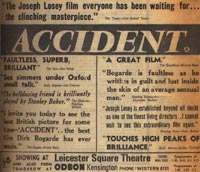 As Pinter hears it, any dialogue whatever-between lovers, relations, men skirmishing around a girl, or a pregnant woman chatting to her husband, is really a last-ditch struggle for power. Every line wins of yields an inch of ground. Pauses are no more innocent of battle advantage that the hideous Christmas lulls of modern wars, and men's sensations of immortal love are as restless and territorial as the instinct of badgers. Any duologue is always one between agent and victim, with the roles switching swiftly, and the desperate lines themselves are perhaps spoken chiefly to try to establish whose role is which. The mute women in Pinter's works who look like men's suffering objects are often the most powerful combatants of all.
Penelope Gilliatt, Extract from The Mouse is a Menace