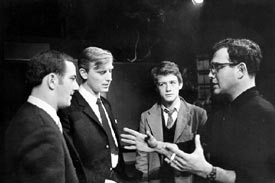 Harold Pinter and the cast of The Dwarfs
Assistant director - Guy Vaesen
Set and Lighting designer - Brian Currah
The Lover:
Richard - Scott Forbes
Sarah - Vivien Merchant
John - Michael Forrest
The Dwarfs:
Len - John Hurt
Pete - Philip Bond
Mark - Michael Forrest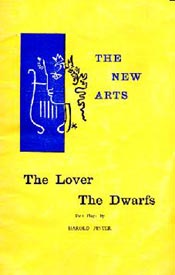 "Both plays are directed by the author, who has orchestrated their expanding silences and bursts of energy with the care of a chamber musician."
The Times, 19 September 1963
"As it happens, Pinter's own production [of The Dwarfs], though it does not altogether hide the untheatrical nature of the material, does manage to hit on just the right tone... The result is that one does not finally care about whether the play is or is not in theory 'theatrical'; it is a riveting experience in the theatre."
John Russell Taylor, Plays and Players, November 1963.