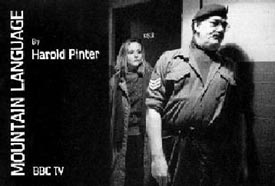 Miranda Richardson and Michael Gambon
Designer - Stuart Walker
Lighting - Clive Thomas
Producer - Louis Marks
Young Woman - Miranda Richardson
Elderly Woman - Eileen Atkins
Sergeant - Michael Gambon
Officer - Julian Wadham
Guard - George Harris
Prisoner - Tony Haygarth
Hooded Man - Alex Hardy
2nd Guard - Douglas McFerran
Women - Jennifer Hill, Anne Higins, Elizabeth Archer, Cryss Jean Healey, Samantha David, Charlotte Kasner, Keely Marshal, Pauline Lewis-John, Jean Channon, Anne Priestley
Guards - Anthony Askew, Alec Gifford
"This was a direct adaptation of the recent National Theatre production but this brief, spare collage off shocking images and appropriately Pinteresque dialogue is perhaps better suited for television than the stage."
Andrew Hislop, The Times, 12 December 1988.
"There's a tension in Pinter's directing of his own work, too. Something I haven't seen on the stage, I think, for a long, long time. He brings something very special as a director of his own work."

Christopher Cook, Kaleidoscope, BBC Radio 4, 20 October 1988.