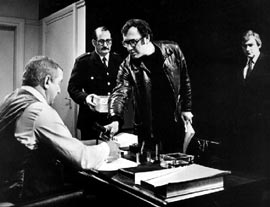 Harold Pinter and cast
Designer - Eileen Diss
Lighting designer - Gerry Jenkinson
Costume designer - Elizabeth Walker
Roote - Derek Newark
Gibbs - James Grant
Lamb - Roger Davidson
Miss Cutts - Angela Pleasance
Lush - Robert East
Tubb - Michael Forrest
Lobb - Edward de Souza
"I wrote The Hothouse in the winter of 1958. I put aside for further deliberation and made no attempt to have it produced at the time. I then went on to write The Caretaker. In 1979 I re-read The Hothouse and decided it was worth presenting on the stage. I made a few cuts but no changes."
Harold Pinter, Hampstead Theatre production programme for The Hothouse, 24 April 1980.
"It was fantasy when I wrote it, but now it has become, I think, far more relevant. Reality has overtaken it." Harold Pinter, The Radio Times, 27 March 1982.
"The least that The Hothouse reveals is Pinter's early proficiency in oblique dialogue; but his visual and aural imagination is on display too, notably in a son-et lumiere on the entire institution, permeated with strange groans and screams, lights flickering on and off down dismal civil service corridors, patrolled by shadowy security officers."
John Elsom, The Listener, 8 June 1980.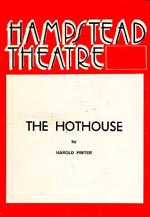 "The strange thing is I have a feeling that it's more pertinent now than it might have been in 1958, when we didn1t know anything about the Russian psychiatric hospitals, did we? Now we do. But, then, it might have been dismissed as fantasy. No, I certainly had no special knowledge of such things. Of course, I knew Koestler's Darkness at Noon and so on, but in 1958 I don't think there was general knowledge that these things were being refined, as they are to this day. Not that I consider this play to be a grim piece of work. I don1t think it is. An odd mixture of 'laughter and chill', if you like."
Harold Pinter to John Barber, The Daily Telegraph, 23 June 1980.
"He has directed the current exhumation with great good humour, alternating between the avoidance and the exploitation of cliche."
Robert Cushman, The Observer, 4 May 1980.