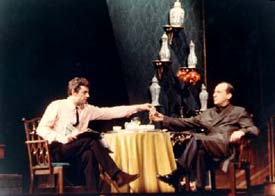 John Ronane and Michael Hordern
(In double bill with August Strindberg's Playing with Fire)
Co-directed by Peter Hall
Set designers - Paul Anstee and John Bury
Harry - Michael Horden
James - Kenneth Haigh
Stella - Barbara Murray
Bill - John Ronane
"The Collection starts with a phone ringing at four o'clock in the morning and a man's voice asking for Bill [...] Discussing this with the actors, Pinter said, "There's a chill here. We don't want it to take on a kind of Agatha Christie ominousness. It isn't a world shattering event but it puts you on your guard. We are a little alarmed on Harry's behalf. We share his watchfulness. The way he is standing suggests that similar kinds of phone call had occasionally been made over the past five years.'"
Peter Lewis, The Spectator, June 1962.
"Peter Hall and Pinter himself have produced it with great care and affection - perhaps too much care and affection, for it's a gossamer piece."
John Higgins, The Financial Times, 19 June 1962
"There can be no doubt at all [...] about the excellence of the performances Mr Pinter and Mr Hall have extracted from their distinguished cast; Mr John Ronane in particular is quite devastatingly acute as the petulant slum-bred designer with just a veneer of upper-class English and plausible social graces, liable to crack in an instant if any pressure is exerted on it."
The Times, 19 June 1962.