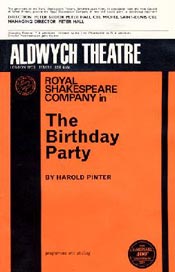 "On the whole Mr Pinter has directed with considerable effect, though I consider the production would benefit from a quicker pace throughout."
R. B. Marriott, The Stage, June 1964
"Apart from the direction of the actors, the main difference in this production [to Peter Wood's premiere in 1958] is that Pinter has tried to make every detail as ordinary as possible - the seaside boarding-house, its inhabitants and the two dark-suited thugs who come to take Stanley away. I see his point - the more familiar the context, the more real the menace which develops - and certainly this theory sometimes works [...] Pinter's production probably reveals the play's meaning more clearly than Peter Wood's."
Bamber Gascoigne, The Observer, June 1964.