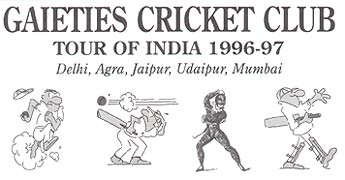 Address by Ian Smith to the Indian Hosts during the tour 1996-97

I first met Harold Pinter in 1988, playing for the Authors against the Publishers in a match organised by the Times Literary Supplement. This match is traditionally won by the Publishers, who exhibit on the cricket field a blend of ambition, opportunism and low cunning which should surprise no-one who has had dealings with their breed. But in 1988 the game was a closely-fought and high-scoring draw, in which both I and Pinter made runs. In the bar after the game, as we discussed his savage assault on the Publishers' tiring seamers, Harold invited me to come and play for his club,the Gaieties. He described the Gaieties as a wandering side who played a good standard of cricket in the Home Counties. It was certainly the best decision of my cricketing life to accept this invitation.
Gaieties was founded initially for cricketers who worked in the theatre, but now is more widely based. I think it would be fair to say that although professional actors now form a minority in the club, all our players, including the writers, academics, the film-maker, the wine-merchant, and those whose profession is, like their age, a continuing mystery, have an exceptional aptitude for strutting and fretting. Captaining the Gaieties is a constant joy, despite our propensity to dropped catches, batting collapses and other indiscretions committed both on and off the field (take a bow, Mr McKinnon). And in his capacity as Chairman, perhaps the last of the benevolent despots, Harold will never give less than full support. This principle applies even when our performance falls shy of the ruthlessness for which his own time as captain was renowned. I well remember how, after a tense game at Shipton-Under-Wychwood, I struggled to explain why I had persisted so long with slow bowlers, squandering an almost fatal sequence of boundaries in the vain hope of quick wickets. Harold was still pale from anxiety, by the listened with patience, and paused before giving his reply. "Hmm" he said, through clenched teeth. "You certainly have a great sense of theatre". Sadly, I have never been able to believe that this was meant entirely as a compliment.
The Gaieties have always taken pride in their wandering status, but have never before strayed as far as the subcontinent. We count ourselves privileged in the fixtures we have been invited to play, and we thank all those involved with them for their generous hospitality.
Ian Smith, Captain Gaieties Cricket Team, tour of India 1997
Captain's Report Ian Smith,New Delhi to Harold Pinter, London, by fax
Date: 31-12-96 (60th Birthday of Charles Lamb)
Match: 45-Over Game vs South Delhi Cricket Coaching Centre
Result: Gaieties won by 4 wickets and with 2 overs to spare
Summary: A Masterful and perfectly paced innings from Mendes (67*) allowed Gaieties to show their clear superiority over a side consisting of schoolboys, but augmented by their games master and Gurusharan Singh, a former Indian Test Batsman and Captain of Punjab in 1993 (their only Ranji Trophy win).
Scores: SDCCC 176 all out (Singh, C.Cowley, B. Blumberg 28) Gaieties bowling: Cowley 5/57, Mendes 1/25, Blumberg 3/31, Lamb 1/38 Gleasure 1/20 Gaieties 180/6 (Simkins 23, Smith I, run out 17, Smith J 6, Lamb 5, Smith M 0, Mendes 67*, Cake 18, Gleasure 13*)
Notes: SDCCC never had a chance of winning after losing wickets to Cowley and Mendes in each bowlers opening over. At no 5 Singh was contained and regularly beated by Gleasure before holing out off a ball from Bl. which turned. Gaieties started steadily but after Smith, unable to farm the strike, ran himself out, 4 wickets fell in attacking accurate spinners on a slow dusty wicket. Mendes and Cake (coming together at 65/5) built a stand, and when the captain was forced to bowl seamers these were stroked by Mendes to all corners (4144.44)
Champagne Moment: First ball of match produced a L-handed reflex catch at 2nd slip by I. Smith off a cowley leg cutter
Shot of the day: From foot flick to midwest but Mendes, miles over the boundary and into the building site, leaving us 6 to win off 4 overs - a stroll.