Acting in Films
The Caretaker (Clive Donner, 1960)

Screenplay by Harold Pinter, adapted from his own play.
Harold Pinter took a Hitchcock-like non-speaking cameo in the film of The Caretaker, starring Donald Pleasance (Davies), Alan Bates (Mick), and Robert Shaw (Aston). Walking away from the camera and with his back to it, Pinter is accosted by the tramp Davies in a brief street scene.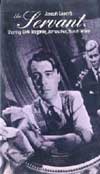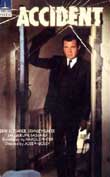 The Servant (Joseph Losey, 1964)
Screenplay by Harold Pinter, adapted from the novel by Robin Maugham.

Another cameo appearance for Pinter in this, his first collaboration as screenplay writer with the director Joseph Losey. He played the role of a Society Man in a brief scene.
Accident (Joseph Losey, 1967)
Screenplay by Harold Pinter, adapted from the novel by Nicholas Mosley.
Pinter took the small role of Mr Bell, a television producer with whom Stephen (the lead) shares a brief comic scene.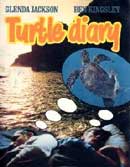 Turtle Diary (John Irving, 1985)
Screenplay by Harold Pinter, adapted from the novel by Russell Hoban.
"Harold Pinter makes a brief but typically ironic appearance as a customer in a Bloomsbury bookshop - bumptious, autocratic and with a gleam in his eye. A man who knows his way around." Sandra Hall, The Bulletin, 14 January 1986
"Pinter [...] brandishes a book asking: 'Have you got the sequel to this?', to be told 'No this is the sequel - to the one before you see.' He comes back with the menacing rejoinder: 'The one before?'" Philip French, The Observer, 1 December 1985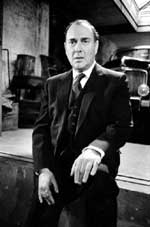 Harold Pinter as Sam Ross in Mojo
Mojo (Jez Butterworth, 1997)
Screenplay by Jez and Tom Butterworth, adapted from the play by Jez Butterworth.
Adapted for the screen and directed by the author, Mojo is set in late fifties London, merging the emergent Rock 'n' Roll culture with the gangland obsessions and power struggles hidden beneath it.
"We meet Sam Ross, a monstrously seedy criminal played by Harold Pinter. This man is a killer, but there's something horribly soft and sensitive about him. He reminds me of someone, possibly Ronnie Kray. His face is a little bit puffy Ross fancies Silver Johnny, and there's an appalling scene between the two men on a sofa. The Pinter character asks the boy about his music. Johnny, mumbling and struggling for words in the most pathetic way, says, 'I think I've got a black man's soul'. It is, in fact, a Pinteresque moment." William Leith, The Observer, 12 July 1998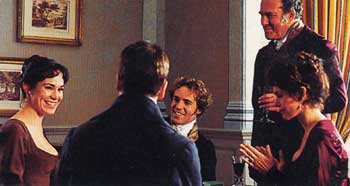 Mansfield Park (Patricia Rozema, 1998)
Screenplay by Patricia Rozema, adapted from the novel and the personal letters of Jane Austin.
Harold Pinter played Sir Thomas Bertram
"The way money dictates what actually happens in [the screenplay for] Mansfield Park I found absolutely pertinent, of course, because it's even more the case now than it was then. It's a constant, how money dictates and the desire for money and the necessity - well, more than that - the panic where you have money and suddenly you haven't got as much money as you thought you had as is, I think, the case with Sir Thomas [...] His own business in Antigua isn't going terribly well and that business being the slave trade [...] I'm sure a lot of people are probably going to argue that she's brought the slave trade and the consciousness of the slave trade too much to the foreground. But I believe that this is logical and coherent and defensible in that it was in the minds of the people at the time. And it was, in fact, Sir Thomas's business and so you had a double standard. Of course, you behaved in a very civilised fashion, as I believe Sir Thomas does. He's a very civilised man... a man of great sensibility but in fact, he's upholding and sustaining a totally brutal system from which he derives his money..." Harold Pinter, Publicity for Mansfield Park, 1998.
"It boasts excellent performances from Frances O'Conner as Fanny Price and especially Harold Pinter as Sir Thomas Bertram, the glowering master of Mansfield Park. Pinter's compelling physical presence and the timbre and control of his voice show him to be a remarkable classical actor." Peter Bradshaw, The Guardian, 16 November 1999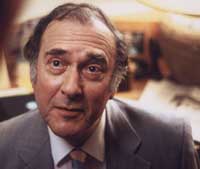 The Tailor of Panama (John Boorman 2000)
Screenplay by John Le Carré, John Boorman and Andrew Davis from the novel by John Le Carré
Harold Pinter plays the role of Uncle Benny in the spy thriller set in Panama in 1999. Also staring Geoffery Rush Pierce Brosnan and Jamie Lee Curtis
Back To Acting main page